So I went to Melaka for the past three days and I shall not procrastinate about writing up this post!

General Tips
Visiting Melaka on a Monday is equivalent to visiting a ghost town. Shops are closed, river is uncleared and noone is around. However, this leaves it perfect for photo-taking and walking around to see the scenery is a breeze. The city turns alive on tuesdays, where it bustles with activities in the day.

Also, Jonker Street night market is open only on weekends!


Transport There
Being all reliant on the internet, I was thankful and happy to find that I could book buses between Singapore and Malaysia via
Easibook
. It works pretty much the same as any flight-booking company like
Expedia
.
The cheapest coaches drop passengers off at Melaka Sentral. The coach from Singapore (Golden Mile Complex) to Melaka Sentral on Sri Maju was 22SGD/pax. There are other companies that go to hotels in the heart of Melaka but these tickets can cost up to 35SGD. Obviously I went for the cheapest option. On a sidenote, Sri Maju's bus is extremely spacious and comfortable. Just bring along your own phone for entertainment on board!
As you can see in the map below, Melaka Sentral is quite a distance from the heart of Melaka. It is approximately 3.2km from Jonker Street. The cheapest taxi fare in is approximately 15RM (6SGD). However, there can be some taxi drivers that quote up to 25RM(10SGD). If you are curious about walking in, I took approximately 45minutes to an hour.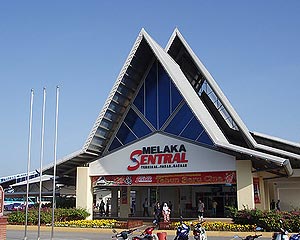 photo courtesy of www.expressbusmalaysia.com
The good thing about Easibook is that you can choose different bus companies for your to and return trip. This means that choosing a Malaysian-based bus company will allow you to save a lot more on your return trip. For me, I took chose the Malacca Singapore Express for 21RM. Sadly, the bus from this company is in a terrible condition and I am glad that this is a relatively short road trip.
P/S: if you don't have the chance to print the tickets, make sure you have the invoice number in the same email as well as your passport for ticket collection.
Accomodation
I did the booking for my accomodation on
Agoda.com
which provides a comprehensive network of hotels, hostels and guest houses in Melaka. Something that I realised about Melaka is that there are numerous well-maintained guest houses at really good rates. If you don't need the luxury, it is actually a very fun experience to live within one of those old houses along the streets or river! Just make sure you research well enough if you require facilities such as wifi, ensuite toilets, breakfast, etc.
I went for kawan-kawan guest house. A room with an attached bathroom for two people for two nights, it cost a total of 76SGD. The guest house lies in the heart of Jonker street which makes it really accessible to tourist attractions as well as riverside pubs/bars in the night time. The guest house provides free wifi, is super clean and well maintained. The rooms are air-conditioned too!
There are many other guest houses as I've mentioned, and here are some we spotted in the vicinity of Jonker Street.
And here comes the sightseeing part of it! All the places I've posted are within walking distance from Jonker's Street.
Riverside scenery
Architecture
Tourist Attractions
There are plentiful of such trishaws around that blast really loud music. Step out on a weekday night and the music from one of them can make the town sound really happening.
Walk along jonker street and you will spot popular Mr. Melaka whom everyone is trying to take a photo with.
Christ Church and the Clock Tower
This mini amusement park opens daily from 4pm to midnight. Entrance at 5RM (2SGD), it features a mini-ferris wheel, pirate ship and jumping trampoline.
Remains of the fort on St.Paul Hill that held the portuguese against the Dutch's invasion.


Interiors of the church atop St. Paul Hill
Church of St.Xavier
Interior of the Church of St. Xavier


There are lots of really adorable kittens around town if you're a cat lover.
Before I end off the blog post, I need to make a special mention regarding this shop that sells
Halal Chicken Rice Balls
. Trust me, it is so good I wanted to eat it all three days I was there.
This is the first time that I have tried chicken rice balls and I've always thought it was no different from chicken rice, just that it was shaped in a ball.
Got very special meh?
YES. While normal chicken rice was like separate grains of rice, chicken rice balls are hard on the outside and soft on the inside. It was like biting a rice ball and following it was a burst of ginger-garlic-chicken flavour that was sooo fragrant. The best way to eat it is to put the whole thing in your mouth without cutting it up. Ladies, it's unglam but just do it! IT IS AWESOME. (ok i admit i am a bit high thinking about the chicken rice balls.)
The only downside to it was that it is very far off Jonker Street, so it would be more convenient for you if you drive. Then again, you could walk over and gratify yourself with as many chicken rice balls as you like later on!
Eejiban
275, Jalan Melaka Raya 3
Spot this sign along Jalan Melaka on the side of Mahkota Mall and you are almost there!
The shop is really cooling with a mist fan and good ventilation, making it really comfortable after our long walk there.
In case you've been curious about how big one chicken rice ball is, it is bite-size. Probably smaller than a ping pong ball. Or think J.co's mini donuts and there you have it. You can choose to order the chicken by half/whole/serving. For two people, we went for 2 servings of chicken (a mix of steamed and roasted chicken). The shopowner recommended 10 rice balls to begin with but we ended up having 20 :o
Each serving of chicken was 4RM ($1.60SGD) and each rice ball was 0.30RM ($0.12SGD). Special mention to the
sour plum juice
that retails at 2.20RM ($0.88SGD): it is an awesome thirst quencher, especially for a hot day. You can skip the ice lemon tea because it is quite poorly made.
All in all, Melaka is a nice town for the food (Chendol, satay celak, hiong pia, dao sa pia, chicken rice balls), architecture and history. A 2d1n trip would suffice to see most of the town. Skip the national museums because they are poorly equipped and disappointing. However, visting private-run museums such as the Nonya heritage museum that lie along Jonker street can be extremely enriching.